7 High protein breakfast ideas
Tiny Cottage Kitchen may earn money or products from the companies or product links mentioned in this post. This supports continued free recipes for you to enjoy.
Sweet and savory high-protein breakfast ideas
Eggs typically provide protein for breakfast, though some of these recipes offer high-protein meals without them. Some are able to incorporate eggs for those who don't want to eat them, and others are eggless for vegans and those with food sensitivities.
Table of Contents
The high protein breakfast ideas here include sweet and savory options, and each contains a substantial 20-40 grams of protein per serving. Greek yogurt and protein powder are both included to boost some traditional breakfast favorites.
Let's look at how to get a protein-packed first meal of the day!
Protein pancakes
Protein pancakes are a delicious and nutritious breakfast option, especially for those who follow a vegan or vegetarian diet. While traditional pancakes are typically made with eggs, protein powder can be used as a substitute to create light and fluffy pancakes without sacrificing taste.
Protein powder is becoming a popular alternative to eggs for creating tasty and comforting breakfasts. This vegan protein pancake recipe is a great way to get light and fluffy pancakes without the need for eggs.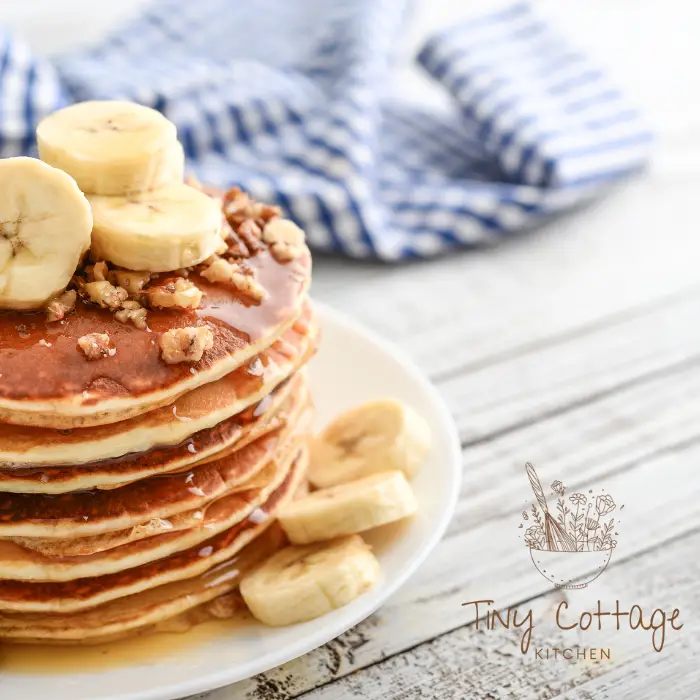 Serve your protein pancakes with your favorite toppings such as fresh berries, sliced bananas, or a drizzle of maple syrup. I like to have my pancakes with blackberry jam and Greek yogurt for flavor and an extra protein boost.
High-protein pancakes are not only delicious but also packed with protein, making them a satisfying and energizing breakfast option. Enjoy a stack of protein pancakes to start your day on a healthy note.
Yogurt parfait
To make a high-protein breakfast yogurt parfait, you can start with a base of Greek yogurt. Greek yogurt is an excellent source of protein, with around 15-20 grams per serving. Choose a plain or vanilla-flavored Greek yogurt to keep the sugar content low. I am sharing how I make mine that has a peanut butter and jelly taste.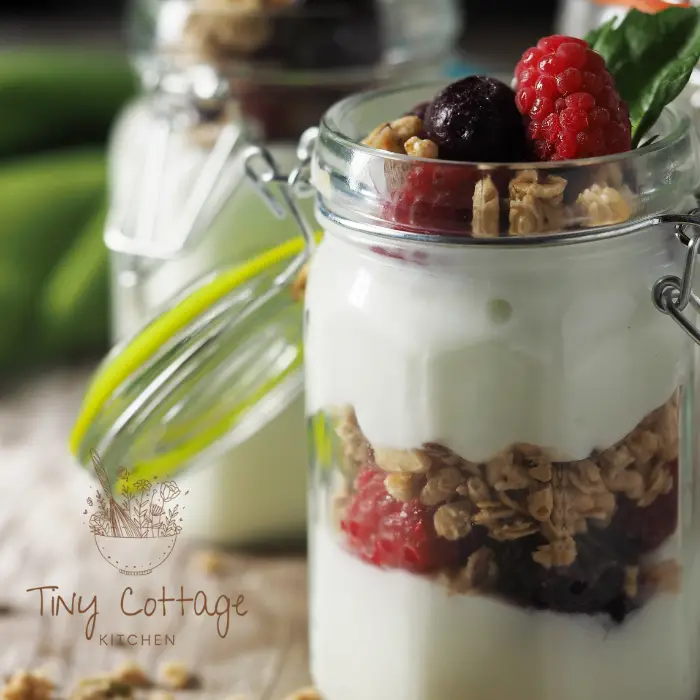 Next, add some crunchy toppings to your parfait. Nuts and seeds are great options as they not only add texture but also provide additional protein. Almonds, walnuts, chia seeds, and flaxseeds are all good choices. Sprinkle a handful of your favorite nuts and seeds over the yogurt.
To add some sweetness and flavor, include some fresh or frozen berries. Berries are not only delicious but also packed with antioxidants and fiber. Blueberries, strawberries, and raspberries are all great options. Add a generous amount of berries to your parfait.
For an extra protein boost, you can also add a scoop of protein powder to the yogurt. There are many different flavors available, so choose one that complements the other ingredients in your parfait. Mix the protein powder with the yogurt before layering it with the toppings.
To assemble your parfait, start with a layer of yogurt at the bottom of a glass or bowl. Then add a layer of berries and sprinkle some nuts and seeds on top. Repeat the layers until you've used up all the ingredients.
My high protein parfait is as follows:
Mix:
1/3 c oats soaked with an equal amount of very hot water. While it softens get out the other ingredients:
1/2 c each plain greek yogurt and cottage cheese
1 scoop naked PB (or use peanut butter protein powder)
15 grams unflavored whey , beef or vegan protein that you like
sugar free or regular vanilla syrup to taste
spices like cinnamon and cardamom
optional ground flax, hemp seeds or chia seeds
optional chopped up apple or berries
Mix everything except fruit into the softened oats. Then top with fruit and enjoy.
This high protein breakfast yogurt parfait is not only delicious but also nutritious. It provides a balanced combination of protein, healthy fats, and carbohydrates to keep you satisfied and energized throughout the morning. Enjoy!
Sweet potato breakfast bowl
Another favorite of mine!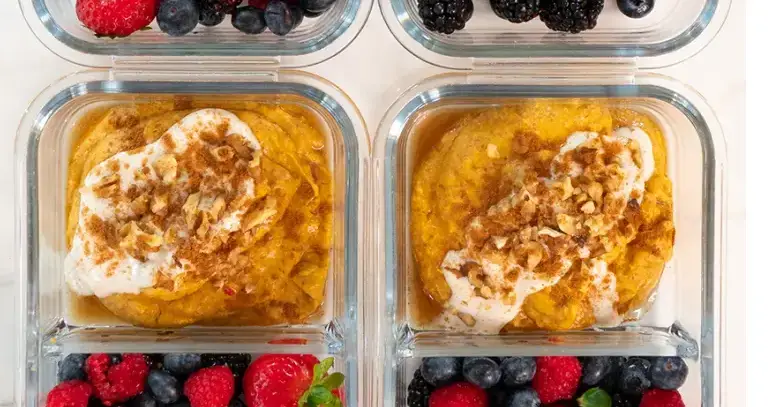 By simply adding unflavored protein powder to the seasoned sweet potato base coupled with the greek yogurt topping you will hit your 20 grams or more of protein.
This bowl is so full of flavor!
Seasoned with cinnamon, turmeric, ginger, black pepper, tahini and more makes the base high in flavor. Then top with nuts, greek yogurt, maple syrup and coconut and you will be addicted. I veered from the recipe and also add cardamom because I can't help myself with cardamom. Either way it's very cravable!
Check out the nourishing sweet potato bowl recipe.
Savory high protein porridge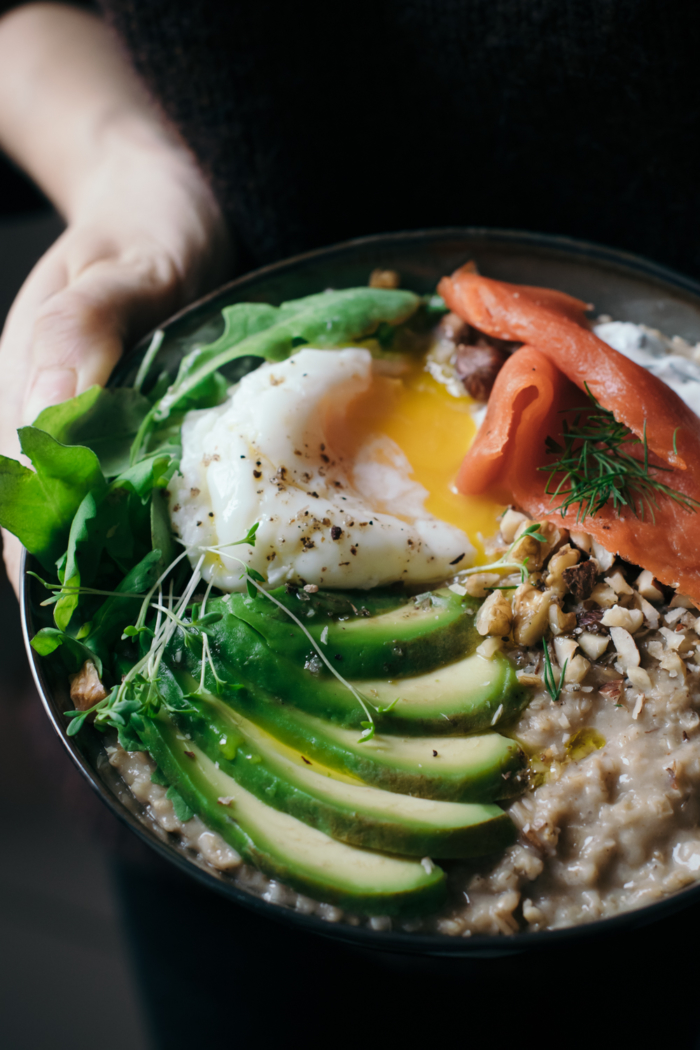 I am a huge fan of oats, especially when they are cooked using the slow-cooker or steel-cut method. Old-fashioned, slow-cooked oats are the perfect way to enjoy a savory oatmeal dish. It's even great for a late-night snack. The texture of overnight oats, however, is not something that I enjoy (I find them to be slimy).
I love this version. I really enjoy the salty salmon, silky avocado, bright fresh greens and chewy oats. See the recipe for this miso oatmeal bowl.
Keto Breakfast Hash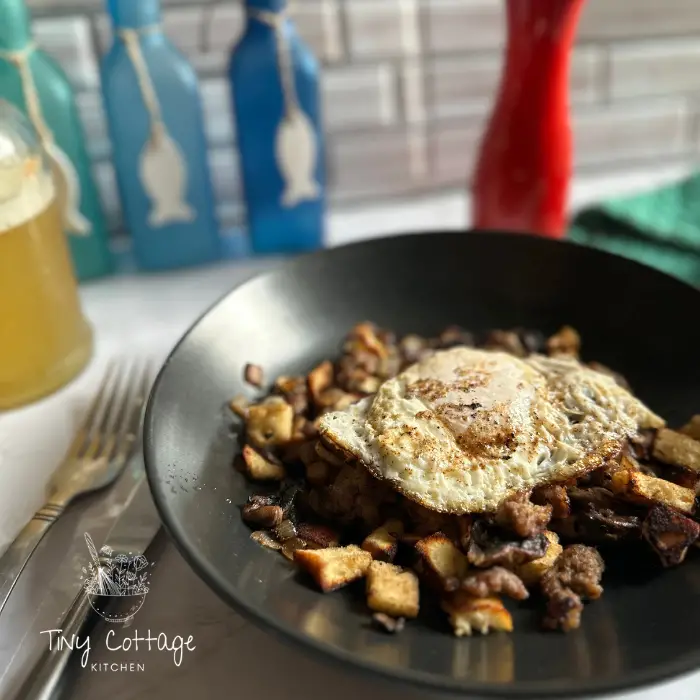 Avoiding potatoes on your way of eating? No problem with this keto version of hash. No carbs and add more protein to your hash making this a real superstar in the high protein breakfast lineup.
This bowl clocks in at a minimum of 25 grams of protein for an average serving. You can amp it up by increasing sausage or ham and adding an extra egg.
Check out the keto hash recipe.
Quinoa breakfast bowl - meal prep
If you love hot cooked grains for breakfast this is a high protein breakfast option for you.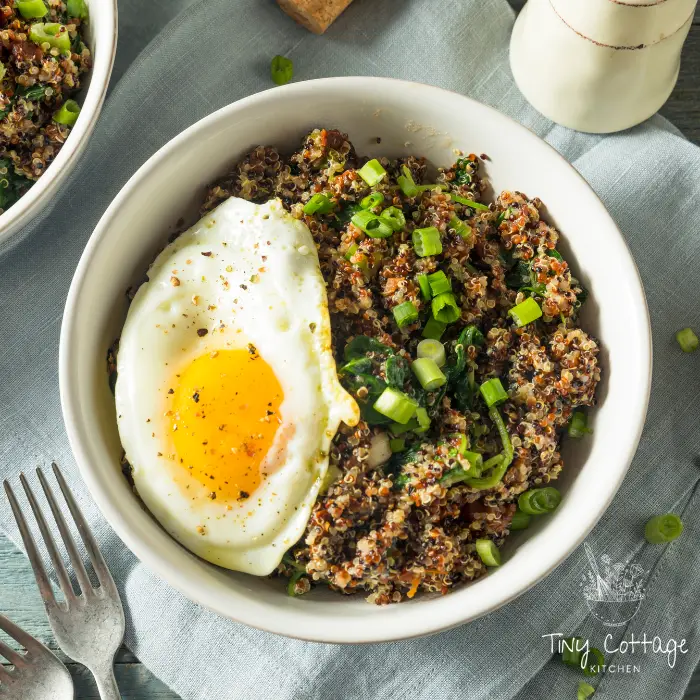 Start by cooking quinoa according to the instructions on the package. Once cooked, transfer it to a bowl and add in your desired toppings such as peanut butter (or almond butter) and banana or other fruit. If desired, you can also add in any other desired toppings such as honey, nuts, chia seeds, and/or dried fruit. This dried fruit is my absolute favorite! It has dark raisins, golden raisins, apricots, peaches, nectarines, pears, cranberries.
For a savory option as shown, after cooking quinoa add tahini mixed with a bit of hot water, lemon juice and garlic. Top with an egg and scallions.
Enjoy your delicious and nutritious textured breakfast bowl! If you're meal prepping, you can portion out individual servings and store them in the fridge for up to four days. This way, you have a quick and easy breakfast option on hand for busy mornings. Enjoy!
Grain-free high protein cream of rice bowl
This savory high protein breakfast porridge is so delicious you will want to eat it day and night. Savory porridge is a unique and satisfying twist on the traditional breakfast dish.
This bowl clocks in at a minimum of 33 grams of protein with virtually no carbs (eggs have carbs)
Check out the high protein no carb breakfast porridge.