Inspired Fall cocktails to raise your spirits
Tiny Cottage Kitchen may earn money or products from the companies or product links mentioned in this post. This supports continued free recipes for you to enjoy.
Fall flavors inspire cocktails with familiar seasonal components
Fall cocktails you say? Sign me up. This conjures up flavors like pears, apples, cinnamon, honey, nutmeg, pumpkin and bourbon.
Table of Contents
Bourbon and pear spritzer
Ginger, pear and sage all come together to make a refreshing cocktail, which is a welcome glass when heavy found is at every turn on Thanksgiving. Bourbon is the base of this drink rounded out with plenty of fall flavors. It smells as good as it looks!
Thanksgiving bourbon pear spritzer
A way to lighten up all the heavy eating of Thanksgiving day
Check out this recipe
Autumn sour fall inspired cocktail
This tasty and tangy spiced fall cocktail combines whiskey, apple cider, pumpkin pie spice and lime juice among a few other ingredients to create a warming taste of autumn.
The drink creator has opted to use coconut sugar as opposed to traditional granulated sugar to rim the glass because it provides a warm autumnal tone for the cocktail.
You may also like this post on ways to use Bailey's pumpkin spice liqueur.
These Apple Cider, Bourbon and Amaretto Cocktails with Brûléed Oranges
Got company coming? This should be a top contender to impress your guests with a beautiful garnish. While you may love citrusy goodness in the summer, citrus are actually winter fruits.
Do you ever notice clementines tucked in Christmas stockings? They are abundant in winter.
This cocktail features main ingredient in pressed Apple Cider, Bourbon and Amaretto Cocktails with Brûléed Oranges to garnish. A dash of cinnamon and bitters round out the complexity and balance the ingredients to give full satisfying flavor.
See the fall cocktail details below.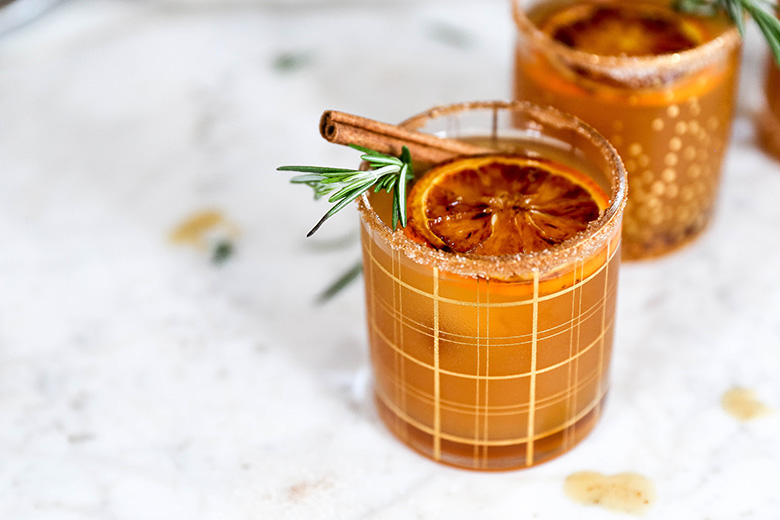 Cranberry Kentucky Mule cocktail
It is cranberry season! Fresh ginger and ginger beer give this drink a distinctive zing, paired with bourbon and tart cranberry it feels like fall to me.
Garnish with candied ginger for an extra festive touch.
Chai Whiskey Flip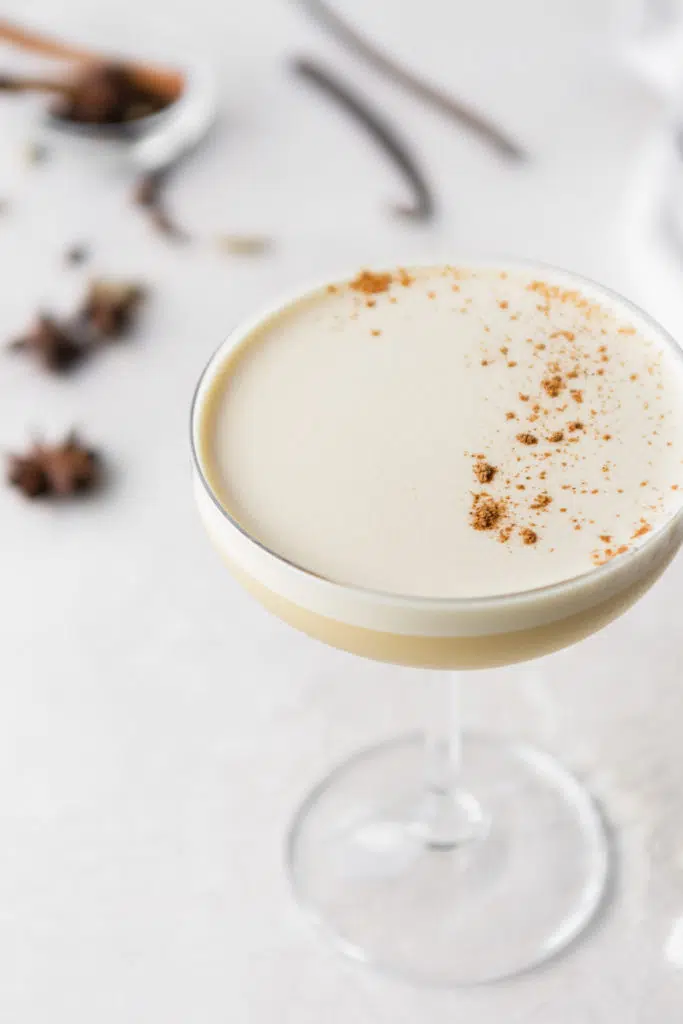 If you love chai tea or coffee, this is the drink for you. Warming spices combined with cream, vanilla and nutmeg to make a totally fall drink!
A flip cocktail consists of a spirit, sugar and a whole egg. It's shaken until thick and frothy, served in a coupe and garnished with a grating of fresh nutmeg.
Check out the wintery flip recipe below and make your own fall whiskey cocktail.
North Pole Cocktail
The author of this cocktail describes this desserty cocktail as sweet and slightly chocolatey with just a hint of peppermint and ginger. Think gingerbread martini meets chocolate martini…basically, it's Christmas in a cup with a hit of vodka.
A north pole cocktail? I don't mind if I do. Check out the full recipe below.
Winter Old Fashioned
If you love a classic old fashioned cocktail, try this wintery twist. The addition of the rosemary and maple brown sugar simple syrup, adds a cozy vibe to the classic. A smooth, velvety taste to each sip. Then finish with rosemary to add an earthy note to the classic cocktail.
Check out the wintery old fashioned recipe to make this cozy cocktail.
A break from bourbon, Christmas margaritas!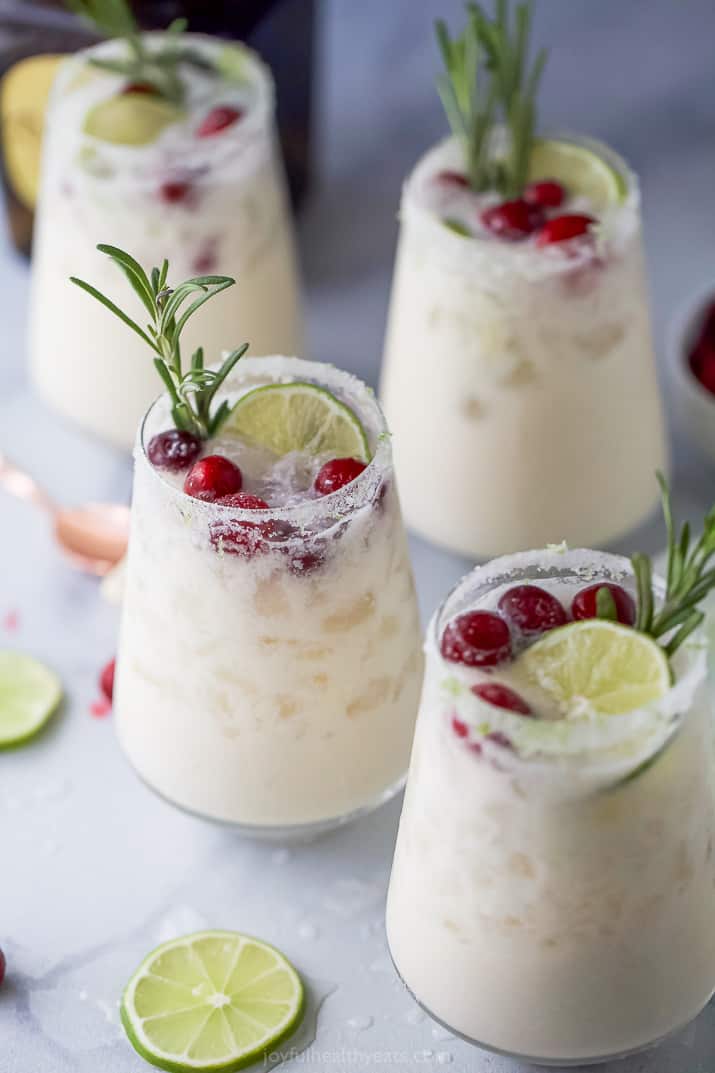 A creamy coconut margarita with lime juice, tequila, coconut water and cranberries that looks like Christmas in a cup.
I do enjoy bourbon but tequila is always my favorite. After all it's the only liquor that makes people feel happy! \
This recipe is for a group, it's a pitcher drink and when people are gathering in your home during the holidays you can whip this up for the crowd.
Fall Gin & Tonic
My favorite summery drink that feels like vacation has always been a classic gin and tonic with lime. But once those leaves change and there is a chill in there it's time to turn to this a perfectly balanced gin & tonic with subtle notes of seasonal citrus, spices, and cider for fall!
Check out the seasonal gin and tonic recipe here.
Holiday sangria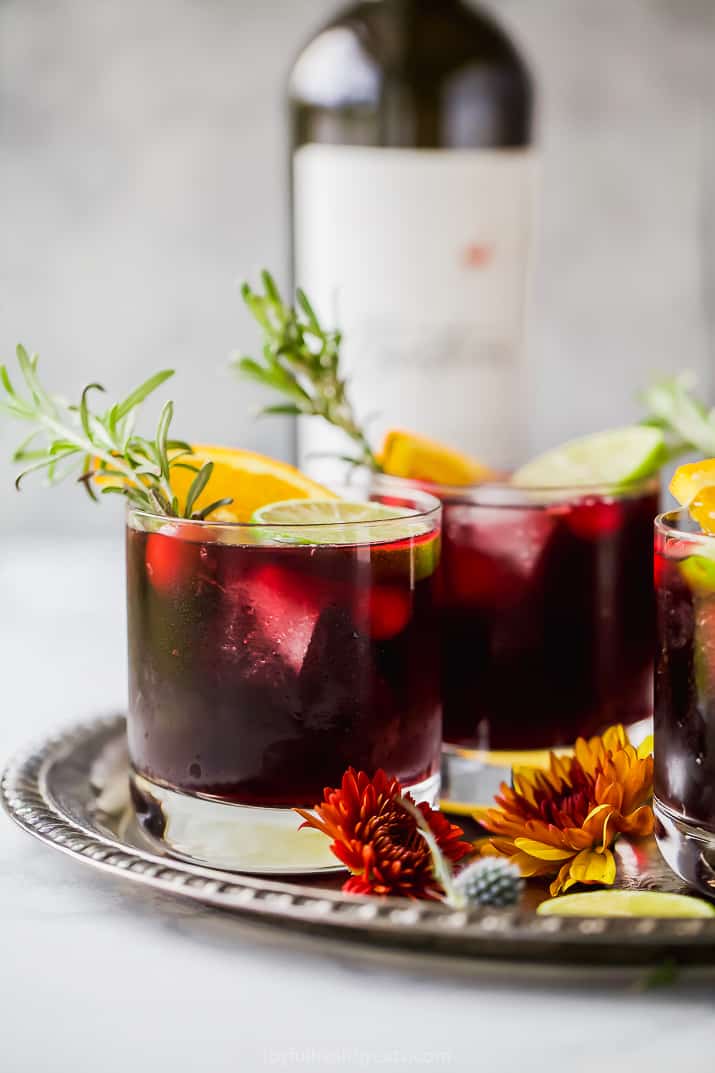 An easy pitcher recipe for this holiday sangria is filled with citrus, brandy, cranberry and hints of cinnamon. A great make ahead festive drink perfect for the holidays!
This is the type of drink that compliments holiday nibbles if you're putting out a cheese, nut and cracker tray.