How to make a small charcuterie board for two
Tiny Cottage Kitchen may earn money or products from the companies or product links mentioned in this post. This supports continued free recipes for you to enjoy.
You don't have to wait for a crowd to make a charcuterie board
You love the Pinterest charcuterie boards but the price of putting one together makes your wallet hurt? Maybe you want a small charcuterie board for just for one or two people? Fear not my frugal reader, I've got you my friend!
How does a guy or gal on a budget put together the savory, smooth, crunchy and soft element of a charcuterie symphony so the experience doesn't go flat? It's not hard it just takes some thought.
Why wait for a party to put together a delicious and satisfying charcuterie board? You can make one for two very easily.
Table of Contents
How to have big variety without spending big money on your small charcuterie
One of the fun things about charcuterie is the mix is textures and flavors. A small charcuterie board can have all these things.
The basics:
2 kinds of cheese (3 if your budget allows)
2 types of cured meat in different sizes, small round, cube or rolled/folded slices (Even pre-rolls of prosciutto and provolone will do)
1-3 types of marinated vegetables
A sweet element like thick jam, chutney or dried fruit (My chunky grape jam recipe is delicious on a board)
2 types of bread, one crunchy, one soft
If your budget allows add some nuts, single or mixed variety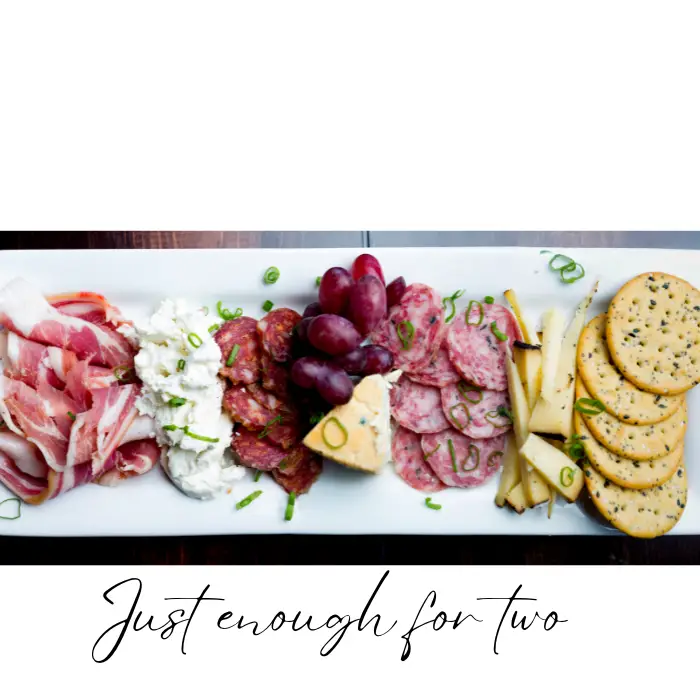 To have a big variety without spending big money on charcuterie components, you can get creative with your choices. Look for affordable options that still offer a range of flavors and textures. One way to do this is by selecting a variety of cured meats that are budget-friendly. For example, instead of opting for expensive prosciutto, you can choose less expensive options like salami, pepperoni, or even ham. These options still provide a delicious and savory addition to your charcuterie board.
Another way to add variety without breaking the bank is by including a selection of cheeses. Look for affordable options such as cheddar, gouda, or brie. These cheeses offer different tastes and textures, allowing you to create a diverse charcuterie experience.
In addition to cured meats and cheeses, you can also include a variety of accompaniments that are cost-effective. Consider adding olives, pickles, or even homemade spreads like hummus or tapenade. These additions not only enhance the flavors but also provide a visually appealing presentation.
By being strategic with your choices and exploring affordable options, you can create a charcuterie board with a big variety without spending a fortune. With a little creativity and resourcefulness, you can enjoy a delicious and satisfying charcuterie experience without breaking the bank.
More ways to cost-cut your charcuterie with homemade touches
I ALWAYS add one or two handmade elements to my boards. Not to save money but I feel like it's the fresh element that brings it all together.
To make your charcuterie board truly special, consider adding a freshly homemade element. This will not only elevate the flavors but also showcase your culinary skills. One easy homemade addition is a batch of flavored nuts. Start with a mix of your favorite nuts, such as almonds, cashews, and pecans. In a bowl, toss the nuts with olive oil, honey, and a sprinkle of sea salt. Then, add your choice of spices like smoked paprika, cayenne pepper, or rosemary. Spread the nuts on a baking sheet and roast them in the oven until golden and fragrant.
Another homemade element that can take your charcuterie board to the next level is a homemade dip or spread. Consider making a creamy garlic and herb dip by combining cream cheese, minced garlic, chopped fresh herbs like parsley and chives, and a squeeze of lemon juice. Blend everything together until smooth and creamy.
I got fancy and made a pesto star to go with my board for two on New Years Eve! Find this on King Arthur Baking.
If you find mushrooms or green beans on sale you can marinate them in Italian dressing for a few days. Really customize it by adding some freshly zested lemon and orange, chili flake or fennel seeds so they can pick up the flavor during the marinade process. See what is already in your spice cabinet and get creative!
You may not have noticed but many grocery stores have containers of 4-6 precut deli meats and cheeses already available to grab. I found a great one at Trader Joe's for $10 but have seen them in Kroger, Lidl and Publix. You can even get a few things from an olive bar to get your board really tailored to your taste. Check both the dairy case and deli area to see where the store has them. No guessing on how much to buy because it's already done for you.
(To this set from Trader Joes, I added a $4 wedge of soft cheese)
Next you need a bread element. One or two that suits your taste. Maybe some grissini? Table water crackers? Homemade saltines are very simple and easy to make and are 3 steps up from store bought. I add rosemary and black pepper to mine. Ultimately you will need something with a crunch to offset the softness of the meats and cheeses.
I like to use a softer bread as well like individual focaccia or French rolls (or I bake some crusty loaf). You can even slice up a fresh baguette for $2 on the diagonal to look extra special.
You may like this recipe for big bubble focaccia.
Assembling a charcuterie board
Now that you've picked your components it's time to attractively put them together so they look inviting.
Think of your board as a time clock. Start by artfully arranging your meats opposite of each other. One at 3 o'clock and one at 7 o'clock.
Next, your mix of semi-soft, and hard cheeses that complement the meats. Brie, gouda, and aged cheddar are excellent choices you can get in small amounts at a fair price. Cut the cheeses into bite-sized pieces and arrange them alongside the meats. You can even have one of them pulled apart with forks for rustic chunks.
One at noon, one at 5 o'clock.
Then add the pretty things. Fill in the other spaces with your small bread item, dishes of fruit and nuts. A variety of fruits and vegetables-including the marinated ones. Sliced apples, grapes, and berries provide a sweet contrast to the savory meats and cheeses. Crunchy vegetables like carrot sticks, cucumber slices, and cherry tomatoes add texture and color.
Enhance the flavors by offering a variety of spreads and condiments. Mustards, honey, and fig jam are excellent choices for dipping and spreading. These accompaniments will add depth and complexity to each bite. You can put them in very small dishes like mise en place bowls or soy sauce dipping cups since this is just for two.
Your bread, pita, crackers or whichever mix you've chosen, can you cut into pieces that fit on the board or on a plate/bowl next to your board.