Sugar-free Heinz chili sauce recipe (copycat)
Tiny Cottage Kitchen may earn money or products from the companies or product links mentioned in this post. This supports continued free recipes for you to enjoy.
Heinz chili sauce is essentially a fancy onion-forward ketchup. No heat whatsoever. It has a bit of texture from the onion flakes and an addictive blend of vinegars, lemon and sugar. In fact you may give up ketchup altogether once you make this.
Enter the copycat sugar free Heinz chili sauce recipe. I use it for eggs, burgers, meatloaf and cocktail sauce base. Try mixing it with peach, pear or apricot sugar free jam to put on grilled pork or chicken.
The main flavor difference between chili sauce and ketchup is the pronounced onion flavor. So if you don't like onion maybe this isn't the recipe for you. But the rest of us? Oh we will enjoy all the chili sauce.
I didn't know about this sauce until I was hunting it down for a recipe that called for it about 25 years ago. It's been on the shelf for over 100 years. Heinz started to produce this delicious condiment soon after their ketchup went into commercial production in 1895.
For keto friendly sweeteners, I used truvia complete for the brown sugar. For the sweetener packet, whatever you use in packets or if you don't use packets, use the equivalent of "white" sweetener that is sweet without the molasses flavor profile. Yes this recipe has two types of sweetener and three types of acidic ingredients. We are building a complexly flavored condiment!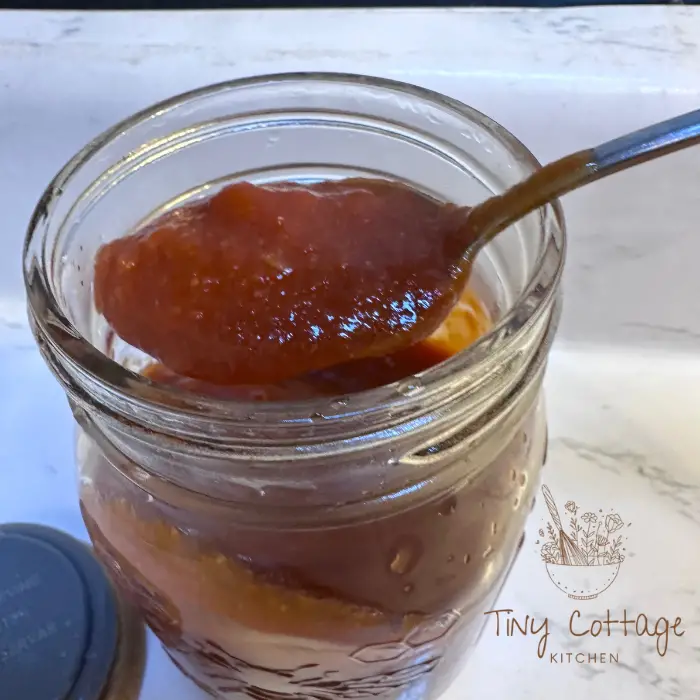 What's the difference between Heinz ketchup and Heinz Chili Sauce?
Certainly, many of the ingredients are similar when you check the labels, but the variation comes in the flavor profile. There are flakes of onion in chili sauce and some slight variation of spices. Chili sauce as I mentioned earlier, is onion forward.
How long will sugar free Heinz chili sauce recipe keep ?
Ideally this chili sauce should be consumed within 2 weeks and kept in the fridge. Once you taste it that probably won't be an issue!
I have had homemade ketchups begin to get moldy just after two weeks! Homemade sauces do not contain preservatives. You may expect with the high acid of the tomatoes and vinegars in both chili sauce and ketchup they would repel mold but alas, they do not do it well enough to keep these homemade condiments as long as commercially prepared versions.
Tips:
Add the fresh lemon juice at the end to preserve the bright zing of the lemon flavor
Taste midway through simmering. Tomato sauce is inconsistent and may need more or less salt, more or less sweetener and more or less vinegar
If you let it simmer too long and it becomes overly thick , thin with 1-2 Tablespoons of water. It should be close to a ketchup consistency. Heinz chili sauce is sold in a pourable (not a squeeze style) bottle. Your chili sauce should be a slightly thicker than ketchup consistency.
A glass storage jar or bowl with lid is recommended.
I am using the limited edition ball Bee canning jars and wooden storage lids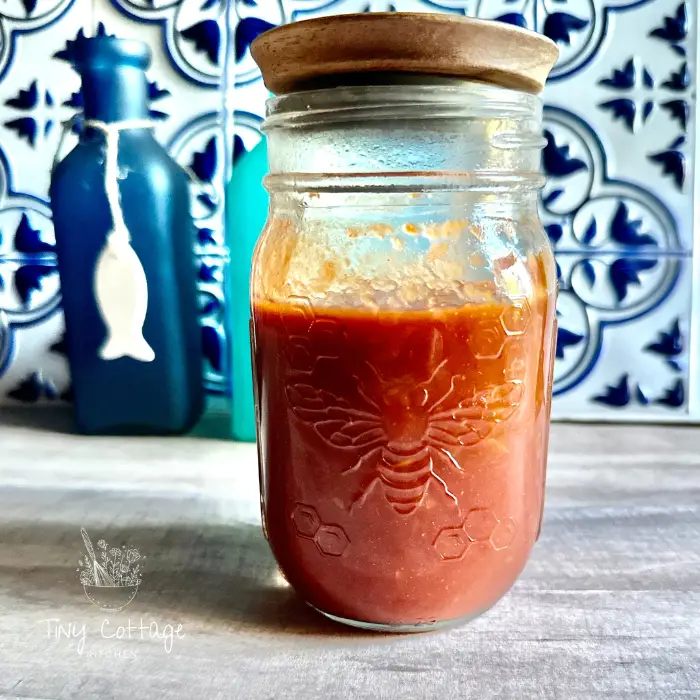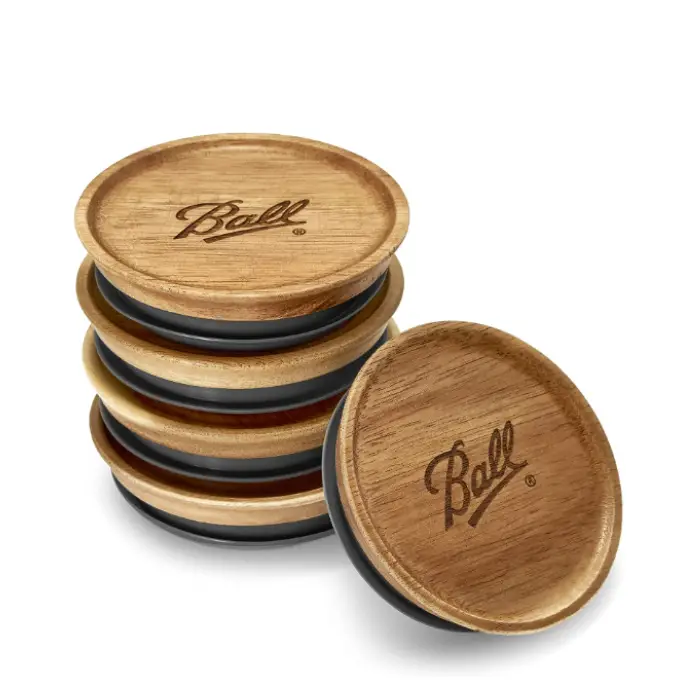 Sugar free Heinz style chili sauce recipe
All the goodness of Heinz chili sauce without the carbs.
Ingredients
1.5

cup

tomato sauce (or paste reconsituted to equal this amount)

1/4

c

brown sugar style sweetener

Currently I use truvia complete

1-2

packet

regular sweetner

1

tsp

salt

1/4

c

apple cider vinegar

1/4

c

white vinegar

3

tsp

fresh lemon juice

3

tsp

dried onion flakes

1/2

tsp

each garlic and onion powder

pinch

a big pinch of ground cloves

this adds depth
Instructions
Make sure you're using the dehydrate onion flakes (regular dehydrated onion will work too) in addition to onion powder. This is key in this sauce.

Combine all ingredients in a saucepan and simmer over low for 20-40 minutes, it will thicken slightly. Use a lid that allows minimal steam to escape and prevents spalshing while simmering.

Turn off heat and add lemon juice.

Cool before storing in a jar.
Notes
You can double the onion flakes if you like. I do !
Add a tsp of chili flake if you want a spicy version.