Savory high protein breakfast porridge
Tiny Cottage Kitchen may earn money or products from the companies or product links mentioned in this post. This supports continued free recipes for you to enjoy.
No carb high protein breakfast
Jump to Recipe
Start your day off right with a high protein porridge that will keep you satisfied until lunchtime. This carnivore and keto-friendly breakfast option is packed with over 30 grams of protein and virtually zero carbs, making it the perfect choice for those looking to fuel their day with a nutritious and filling meal.
Keto savory porridge is a delicious and nutritious breakfast option for those following a ketogenic diet. This is a porridge with NO GRAINS. Simple ingredients you may already have on hand right now.
Savory porridge is made from a combination of high-fat and low-carb ingredients like eggs, cheese, and bacon, and is a great way to get a head start on your day. I loved eating cream of rice in the morning for years but my blood sugar was not happy about it. I created this dish as an alternative way to enjoy a breakfast bowl without blood sugar spikes.
Not only does this high protein breakfast porridge provide you with the energy you need to tackle your morning, but it also helps to keep you feeling full and satisfied throughout the day. The combination of protein and healthy fats in this breakfast option helps to slow down digestion, keeping hunger at bay and preventing those mid-morning cravings.
You will need a good non stick sauce pan to make the porridge part of the recipe. I have my favorite linked just before the recipe.
Savory breakfasts keep sweet cravings under control all day long
This protein heavy savory meal is good any time of day, not just for breakfast. I prefer savory breakfasts and this certainly fits the bill. Do you love a savory breakfast too? I find if I start the day with something sweet I crave more sweet tasting things all day long.
Starting the day off with a savory breakfast can be a game-changer when it comes to controlling sweet cravings. By opting for savory food in the morning, you set yourself up for success in managing your desire for sweets throughout the day.
When we consume sweet foods early in the morning, it can trigger a cycle of cravings that lasts all day. The initial rush of sugar can lead to a spike in blood sugar levels, followed by a crash, leaving us craving more sugar to regain that energy boost. This rollercoaster effect can make it difficult to resist sweet treats later on.
Having a keto or carnivore lifestyle has likely taught you this already!
On the other hand, a savory breakfast provides a more balanced start to the day. Foods like eggs, vegetables and proteins offer a combination of protein, fiber, and healthy fats that help to stabilize blood sugar levels and keep you feeling satisfied for longer. This can help to curb those mid-morning sugar cravings and prevent the need for constant snacking on sugary foods.
Whether you're following a carnivore or keto diet, this high protein porridge is a delicious and convenient way to start your day. With its rich and creamy texture, it's hard to believe that it's also low in carbs and high in protein. Plus, you can customize it to suit your taste preferences by adding your favorite toppings such as nuts, seeds, or berries as your macros allow.
A High protein breakfast keeps you full until lunchtime
So, say goodbye to those mid-morning hunger pangs and hello to a breakfast that will keep you satisfied and energized. Try this high protein porridge and start your day off on the right foot.
Note: Calories shown are without optional heavy cream for serving. If you like a higher fat dish, serve with butter and cream.
Equipment used in this recipe:
Nonstick saucepan: Circulon Momentum 2 qt nonstick works beautifully with egg. I even make day to day scrambles in this instead of a skillet. High sides give me better heat control than an open skillet.
Lodge cast iron skillet affordable and dependable. Everything I want in cast iron. How to care for cast iron.
Rosle stainless steel coil whisk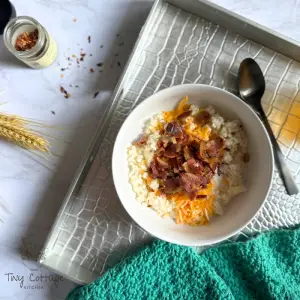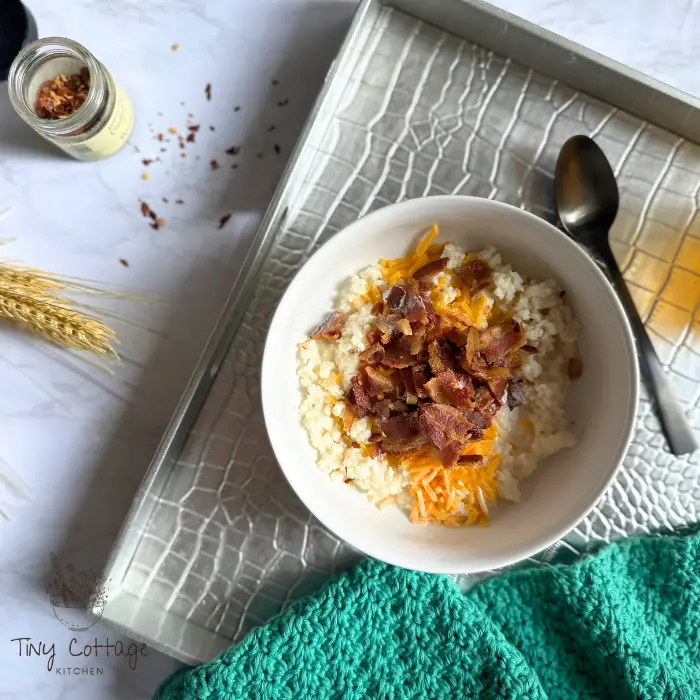 Keto carnivore savory porridge
No carb high protein breakfast porridge that is good any time of day!
Equipment
1 fry pan

1 non stick saucepan

1 whisk
Ingredients
3/4

cup

egg whites

1/4

c

unsweetened almond or cashew milk

1/8

tsp

salt or garlic salt

1

tsp

beef gelatin

1/4

c

shredded sharp cheddar cheese

3

slices

bacon

heavy cream for serving (optional)

red pepper flakes (optional)

2

tsp

butter
Instructions
Start by putting bacon on to cook over preheated medium heat heavy skillet. I like to use cast iron.

Next, in a measuring cup or bowl, whisk together egg whites, almond or cashew milk and salt.

Drain, cool and crumble bacon.

Over medium heat in non stick saucepan, melt butter. Once melted pour egg white mixture into pan.

Whisk every 20-30 seconds so egg white begin to look like curds.

Continue to cook and whisk while the curds dry out. After about 5 minutes they should be relatively dry.

Sprinkle over the beef gelatin and continue to cook another 2 minutes stirring to combine the gelatin in with the eggs. This will help the texture.

When eggs are nearly dry, transfer to a serving bowl.

Top with cheese, bacon and if desired, serve with chili flakes and heavy cream.
Notes
Calories: 390
Protein: 33 gr (plus gelatin- an incomplete protein)
Total Carbs: 3 (from eggs)
Fat: 26 gr
Keto carnivore savory porridge