I Tried Emma Fontanella's Big Bubble Focaccia Recipe
Tiny Cottage Kitchen may earn money or products from the companies or product links mentioned in this post. This supports continued free recipes for you to enjoy.
Emma's Goodies focaccia recipe testing
If you want to try making a focaccia recipe, Emma's Goodies, a very popular YouTube channel has an enticing recipe showing off big bubble focaccia. F0 - Katch - Cha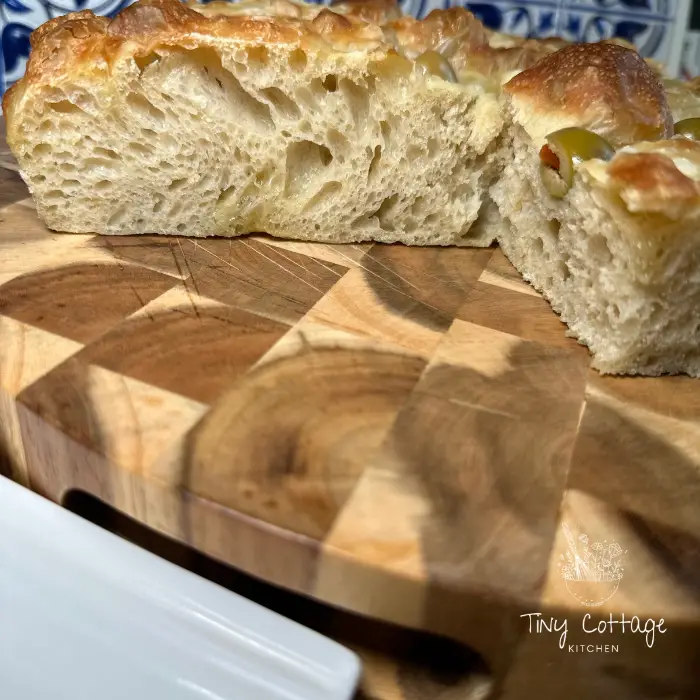 I have made focaccia before but I always have good results with Emma's recipes so I wanted to try hers and see how it compares to past bakes.
Emma Fontanella is Italian and she's a trained baker. That is good street cred for a recipe like this.
You may also like this post on sourdough essentials.
Ingredients for focaccia
Emma recommends bread flour or Italian 00 flour, with 12% protein content. I used AP flours with one tablespoon of vital wheat gluten per cup of flour to create a high-protein flour. I use this brand of vital wheat gluten.
You will also need yeast, salt, water, and a good-tasting olive oil. Additional optional flavorings such as flakey salt, olives, herbs (like rosemary), sliced tomato, sliced red onion, or other tasty toppings can be added just before baking.
Making no knead focaccia
To make no-knead focaccia, you'll need to start with a loose, wet dough. This may seem intimidating, especially for beginner bakers, but it's actually essential for achieving those delicious, airy bubbles that make focaccia so special. The loose consistency of the dough allows for more air pockets to develop during the fermentation process.
Exactly how much water you add to the recipe is going to vary a bit based on how humid your environment is and how "thirsty" your flour is.
Emma will explain this in-depth as the stretch and fold technique is demonstrated. The dough starts off as you'd expect, a bit wet and unruly. As you perform the series of 4 stretch and folds every 30 minutes you will see the dough begin to transform.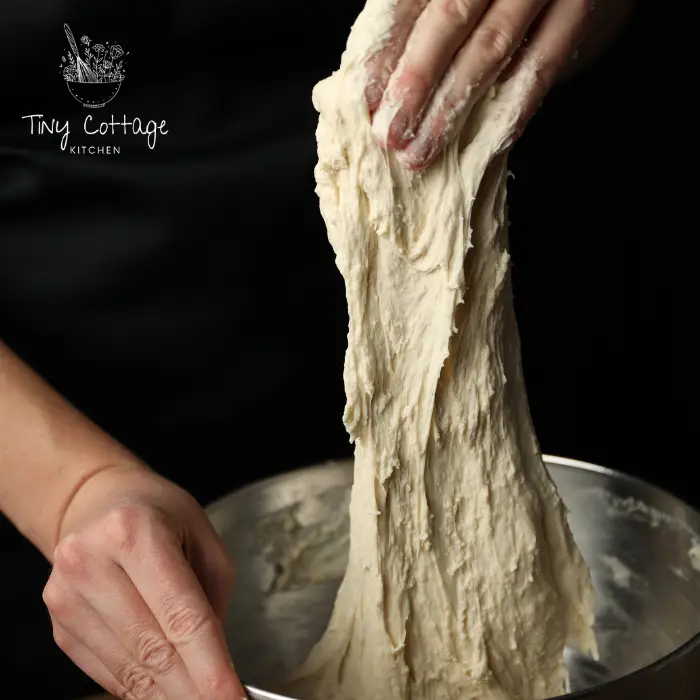 How to develop the most flavor in focaccia dough
To develop flavor in focaccia dough, there are a few key techniques you can use.
One of the most effective ways is to let the dough ferment slowly in the refrigerator overnight. Emma's recipe can be made same day but she encourages up to 48 hours of cold fermenting in the fridge. This allows the yeast to work its magic and develop complex flavors.
I allowed mine to cold ferment for 36 hours. Plan on at least 24 hours for the minimum flavor enhancement.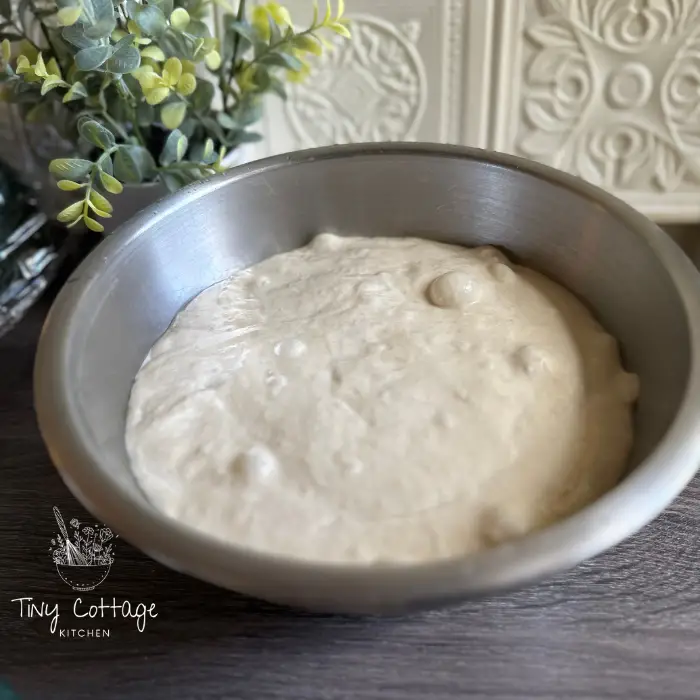 Baking focaccia
After my 36 hour ferment, I allowed the dough to come closer to room temperature for 2+ hours then put it into a well oiled (with very good olive oil of course) pan.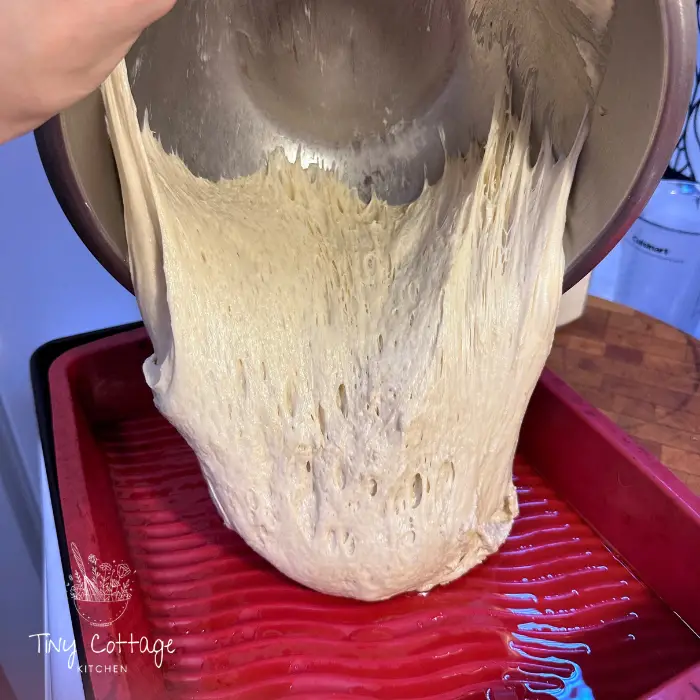 Rest and rise for 2 more hours (my dough was still on the cool side)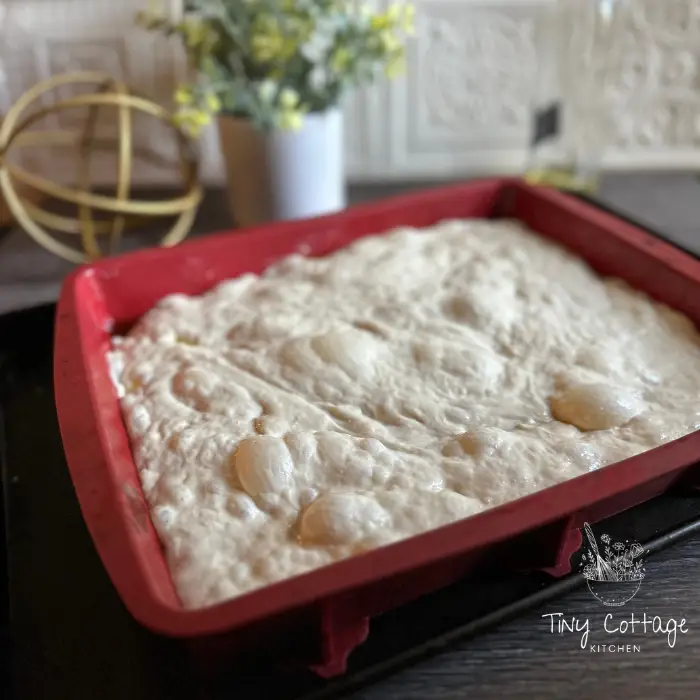 Then more oil and the dimpling process with fingertips. Preheat oven to 400F.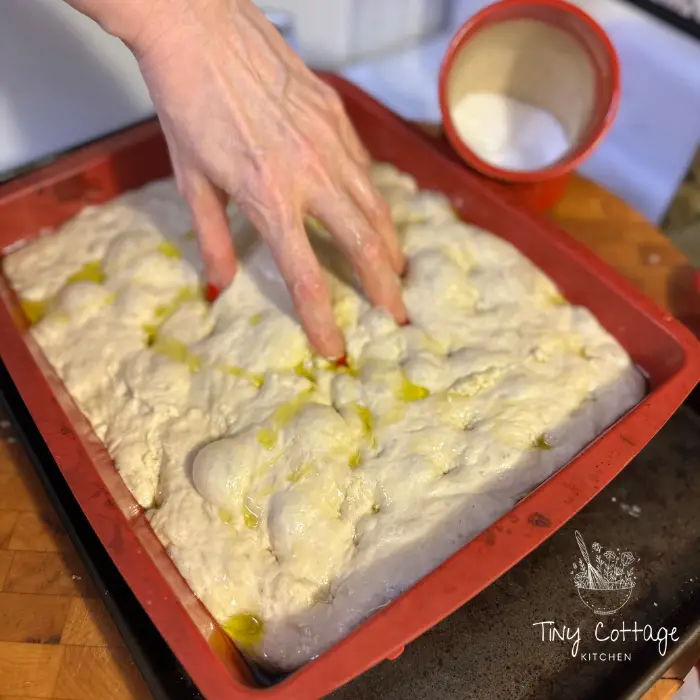 Added some green olives.
Bake for 20-25 mins (internal temp of 210 F) then transfer to a wire rack to cool off.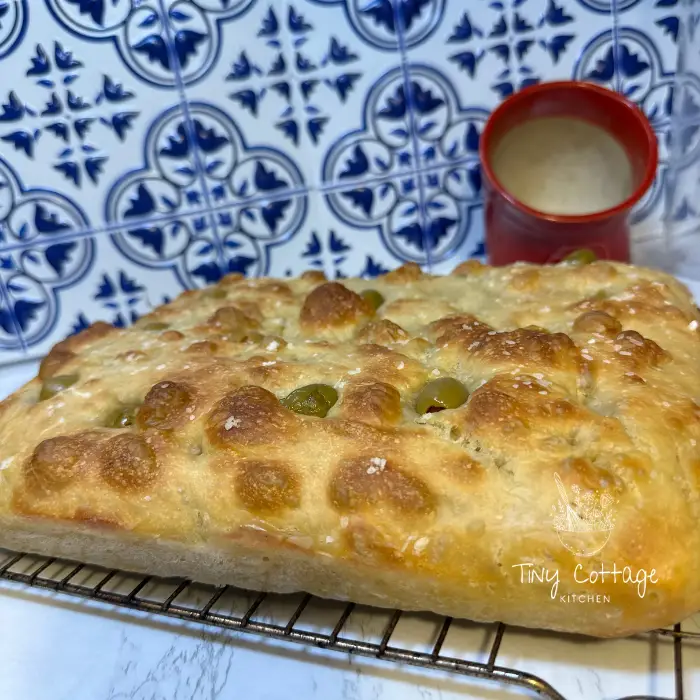 How to serve focaccia
To truly enjoy the deliciousness of homemade focaccia, it's important to know how to serve it. Here are a few tips to help you make the most of your freshly baked focaccia: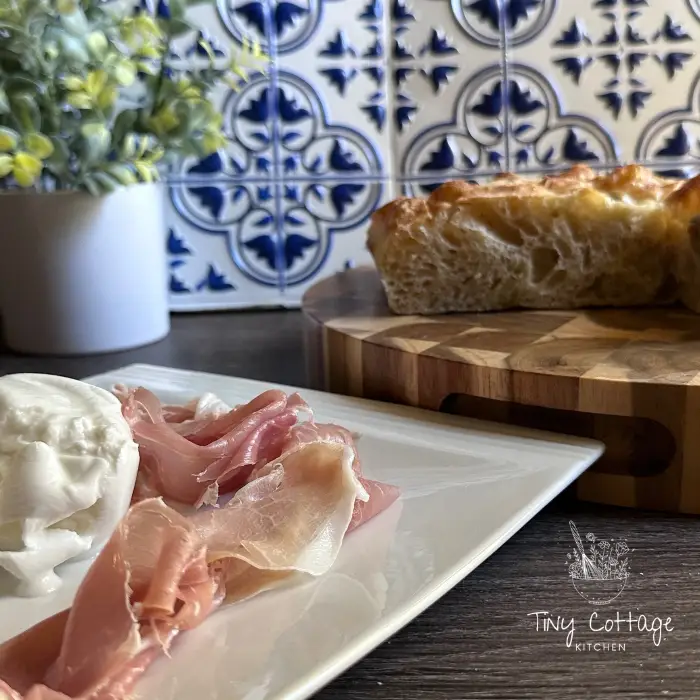 Serve it warm: naturally, like all bread, focaccia is best enjoyed when it's still warm from the oven. The heat enhances the flavors and makes the bread even more irresistible. If you're not serving it immediately, you can reheat it in a low oven for a few minutes before serving. Try your air fryer too!
Pair it with dips and spreads: Focaccia is incredibly versatile and pairs well with a variety of dips and spreads. You can serve it with classic olive oil and balsamic vinegar for dipping, or try it with hummus, tzatziki, or roasted red pepper dip. The soft and chewy texture of the bread is the perfect vehicle for these flavorful accompaniments.
Use it for sandwiches: Focaccia makes a fantastic base for sandwiches. Slice it horizontally and fill it with your favorite ingredients like sliced meats, cheeses, and fresh vegetables. The airy texture of the bread adds a wonderful dimension to any sandwich. Emma shows a classic simple Italian-style sandwich of prosciutto and buffalo mozzarella which is how I served it. No condiments needed!
Serve it as a side dish: Focaccia is a great addition to things like soup and salad rounding them out to make a more satisfying stick to your ribs meal. Cut it into squares or wedges.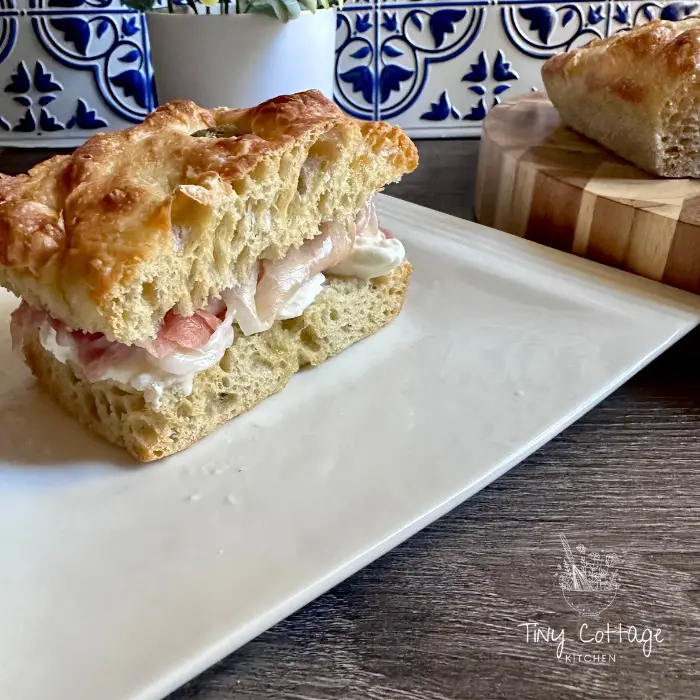 By following these tips, you can serve your homemade focaccia in a way that enhances its flavors and makes it a standout dish. The impressive big bubble texture of this style of bread always wows my guests when I serve it.
Emma's focaccia recipe verdict
This is an excellent flavorful tender crisp-crusted focaccia I absolutely will make again. It's easy and while my bubbles were not quite as big as hers, I will try double-zero flour next time I make this.
See the video tutorial for Emma's recipe.
See the written recipe for big bubble focaccia here.
Thanks Emma for another winning recipe!