Tiny Cottage Kitchen may earn money or products from the companies or product links mentioned in this post. This supports continued free recipes for you to enjoy.
High protein keto hash recipe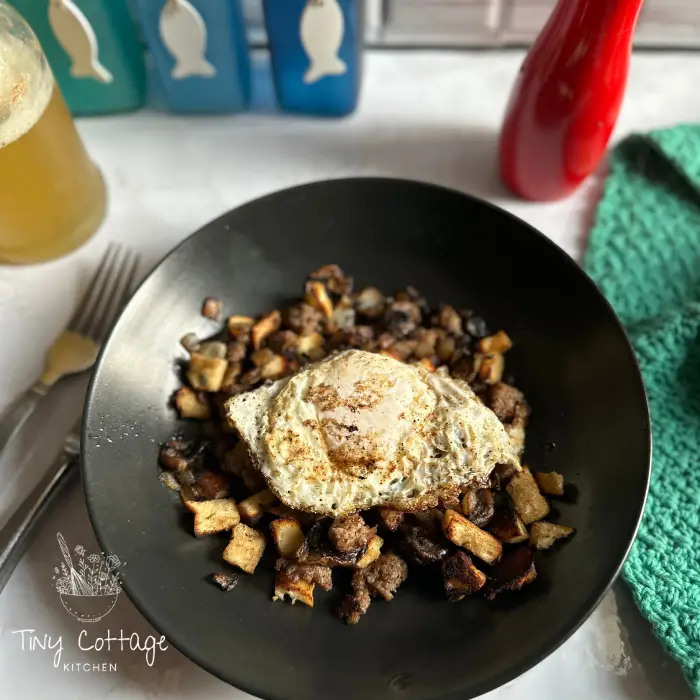 Jump to Recipe
If you miss breakfast hash on a low carb diet this will satisfy that craving with nearly zero carbs.
This breakfast will get you at least 30 grams of protein depending on how many eggs you add to the top.
A high protein low carb comfort food
Keto breakfast hash is a delicious and satisfying way to start your day on a ketogenic diet. Packed with protein and low in carbs, this breakfast option will keep you feeling full and energized throughout the morning.
One of the great things about keto breakfast hash is that it's a comfort food that doesn't derail your diet. Instead of starchy potatoes, this version uses low-carb vegetables like cauliflower or zucchini as the base. These veggies provide a satisfying texture and are packed with nutrients.
To make your keto breakfast hash even more flavorful, you can add in some protein options like bacon, sausage, or even leftover grilled chicken. These additions not only add a savory taste but also provide an extra boost of protein to keep you satisfied until lunchtime.
Curb sweet cravings all day long by starting with this savory breakfast hash
Another benefit of keto breakfast hash is that it helps to curb sweet cravings. By starting your day with a savory meal, you're less likely to reach for sugary snacks later on. This can be especially helpful if you're trying to reduce your overall sugar intake or if you're following a keto diet to manage conditions like diabetes or insulin resistance.
In conclusion, keto breakfast hash is a delicious and nutritious way to start your day. It's packed with protein, low in carbs, and helps to keep you feeling full and satisfied. Give it a try and see how it can become a staple in your keto meal plan.
Zero carb bread is key to this savory breakfast
You will be using low carb or zero carb bread using your favorite egg bread recipe such as Maria Emmerich's or my favorite, Indigo Nili's butter buns. I always have some on hand for a quick breakfast sandwich or ham and cheese.
Tips on making keto breakfast hash
Because these breads aren't fatty they aren't as moist as say, a potato or even regular gluten bread so the hollandaise sauce helps if you're only having one egg. If you have two eggs, that is enough fattiness to coat your hash and make it ooze comfort.
A few times I have added two tablespoons of chicken stock to the pan to moisten up the fatless bread so that is an option you can try if you don't want to add additional fat. Some keto eaters do better on a lower fat high protein diet when trying to drop pounds.
Keto breakfast hash
A high protein low carb breakfast bowl suitable for carnivore diets too.
Equipment
1 cast iron skillet

The one I use: https://amzn.to/46Nd2aG
Ingredients
3

ounces

bulk sausage

hot, sage or regular

1/2

cup

chopped yellow or white onion

1

cup

small dice keto butter bun recipe or other egg white bread

http://indigonili.com/yeasted-next-level-butter-buns-keto-egg-white-bread/

1-2

qty

egg(s)

(optional) Hollandaise for serving

(optional) extra fat if sausage is lean
Instructions
In a skilled preheated over medium heat, brown sausage and cook onions together until onions are soft and sausage has rendered and is no longer pink.

Meanwhile, cut the keto bread into small cubes.

Add to pan. If your egg white bread is very dry (they can be) feel free to add 1/4 chicken stock to the mixture while browning. Continue to cook (add more fat if needed) until all sides of bread cubes are brown. If you added stock it will take a bit longer and you can raise the heat a bit to speed the process.

Add sage or poultry seasoning if desired.

Transfer to a serving plate or bowl.

Add your favorite type of egg(s) over. Hollandaise is a nice addition to add more fat and keep the hash moist.
Notes
Nutrition will vary based on which sausage or ham you use, which egg white bread you use and how many eggs you serve over your hash.