Stuffed onions - making onions the star of the show
Tiny Cottage Kitchen may earn money or products from the companies or product links mentioned in this post. This supports continued free recipes for you to enjoy.
How to make stuffed onions everyone will love
No longer are onions a base serving as a launching pad for additional flavors, this recipe puts this bulb vegetable front and center.
You can serve these as a main dish but I like to present them as a side dish for special occasion meals. I remember the first time I tasted these. I was instantly addicted. They seem like a humble food but even the most simple of things can be impressive when made well.
Stuffed onions make an excellent side dish for holiday and special occasion meals. This stuffed onion recipe is a crowd-pleasing favorite that brings together simple ingredients to create a delicious dish. The combination of flavors and textures in this recipe creates an exciting bite. A bonus: you can prep them a day or two before you want to bake them and store them in the fridge until it's time to put them in the oven. Serve warm or room temp. The filling holds heat nicely snug inside the onion walls.
I have baked them two to a dish to serve as an entree with a side salad. The filling is what will help you decide if you want to enjoy them as a side dish or main dish.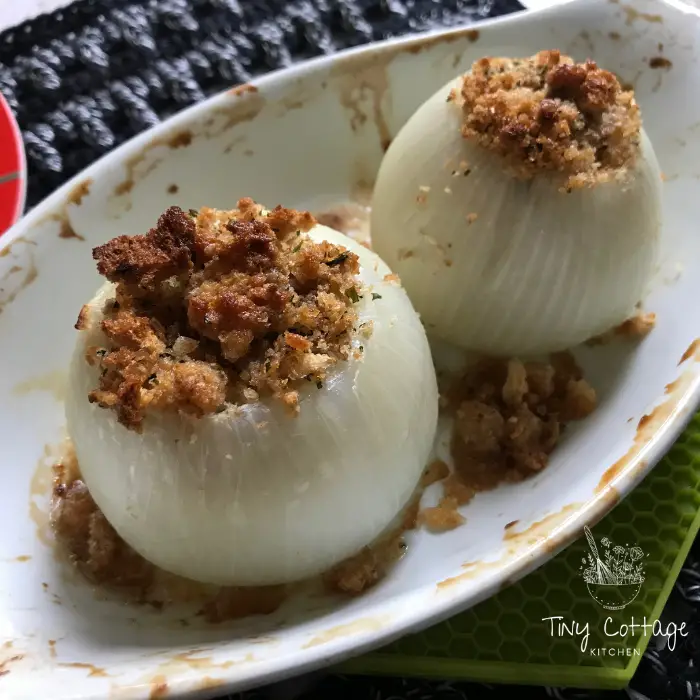 To make these stuffed onions, you will start by selecting large onions that are suitable for stuffing. They are peeled then softened a bit in boiling water. From there you will cut off the onion tops and hollow out the centers. This creates the space for the filling.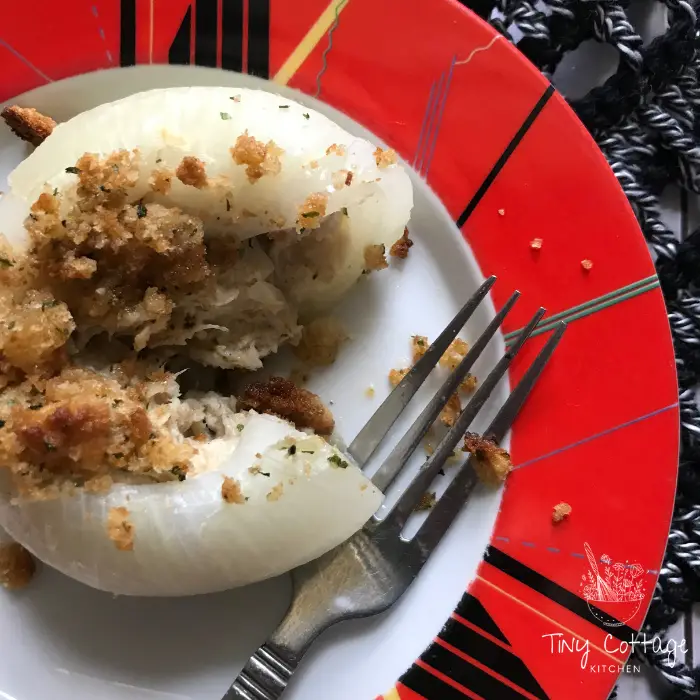 The filling can be customized to your taste, and even made vegan. It is a mixture of breadcrumbs, meat (or meat alternatives), herbs, and spices. This filling adds a savory and flavorful element to the dish. You may be surprised how well the onions hold their shape even once cut into as you eat them.
Once the onions are stuffed, they can be baked in the oven until they are tender and the filling is golden brown. The aroma that fills your kitchen as the onions bake is irresistible! When I was working as a private chef every time I started to cook onions the client would show in the kitchen saying how good it smells! P
When they are done, serve the stuffed onions as a side dish alongside your main course.
The combination of the sweet, caramelized onion with the savory filling creates a harmonious balance of flavors. The soft texture of the onion pairs perfectly with the crispy and savory filling. This dish is not only delicious but also visually appealing, making it a great addition to any holiday or special occasion meal. No one expects a beautiful platter of stuffed onions.
If I haven't said enough, stuffed onions are a versatile and impressive side dish that will elevate any meal. With their delicious flavors and beautiful presentation, they are sure to become a favorite among your family and friends. I know they with mine!
Stuffed Onions
Ingredients
Onions

med large yellow, brown or sweet onion

per person (2 if serving as an entree)

soft stale breadcrumbs

use a food processor to pulse bread down to a fine crumb

crumbles (this is for a vegan option)

for a vegan version

bulk sausage crumbled and cooked or minced cooked cold chicken, minced

Pulse in a food processor if you don't want to mince with a knife.

butter or vegan butter

use a good flavored vegan butter

cream (or full fat coconut milk if dairy free)

minced fresh parsley

dried or friesh rosemary or thyme to taste

optional. Sage is nice for serving as a holiday side dish
Instructions
Put on a large pot of water with salt to comfortably boil all the onions you will be stuffing.

Peel skin from onions leaving tail ends in tact.

Parboil the onions until they soften up 8-12 minutes depending on the size.

Removed with a slotted spoon and rest on the top end (not the root) to allow to drain on a towel

Preheat oven to 350 F. Prepare baking pan with low sides (no more than 2" deep) or crocks by buttering them. Size should hold the amount of onions you're making comfortably. Use your pretty baking pans if you want to serve from them, This is a beautiful dish!

Meanwhile combine the finely chopped chicken or crumbles and equal amount of soft bread crumbs, chopped parsley and a bit of thyme or rosemary if you like.

add enough cream or coconut milk to bind (filling should be sticky as it will absorb some of the moisture in the onion walls as it bakes)

Once cool enough to handle use a sharp or serated knife to cut away the onion tops, about 1/4th of the top) cut enough so you can remove the insides. The 3-4 out layers will be somewhat flexible to allow working out the inside layers without them splitting.

Lay them cut side up in a greased baking dish. Use a small spoon to insert filling and gently pat it into all areas of the cavity. Cover the top with buttery soft bread crumbs before baking until soft, 20-30 minutes.