10 Best Savory Fall Apple Recipes
Tiny Cottage Kitchen may earn money or products from the companies or product links mentioned in this post. This supports continued free recipes for you to enjoy.
Savory apple recipes
Apples aren't just for dessert, these 10 best savory fall apple recipes will make breafast, lunch and dinner apple-riffic!
Apples are incredibly versatile and these fall apple recipes will show you why. When they are tucked in to bakes, soups, salads and braises, they add depth of flavor and a welcome break from the same ol same ol dishes. Take advantage of fall apple season with some of these savory fall apple recipes.
To make cooking with apples easier I recommend having an apple corer on hands.
A savory apple tart recipe
A delicious way to enjoy fall apple season, layering slices in a savory tart complimented by thyme, sweet caramelized onions and nutty gruyere. Imagine a glass of wine and crusty bread as you enjoy a crisp fall sunset.
Swiss scones with savory sage and apple recipe
Satisfying and buttery, scones are a wonderful blank slate to add a tasty combination of flavors all packed into each flakey bite. This savory apple recipe combines nutty swiss cheese and warming fall sage together with the fruit to bring fall flavor to breakfast, teatime or dinner.
Enjoy the scones with butternut squash or pumpkin soup and it will be crowd pleasing sophisticated favorite among the whole family.
Apple cheddar quiche recipe
Perfect for breakfast, brunch or lunch, this savory quiche is easy and satisfying. Pair with a light salad, bread (or croissants for breakfast) the tasty sweet surprise of apples will delight everyone at the table.
Thyme, a classic pairing with apple, perfumes the olive oil crust adding depth of flavor to the familiar apple cheddar combination. I remember my father always wanting a thick slice of cheddar cheese on his slice of apple pie. As a kid I thought it odd but as an adult now I know he had the right idea!
Sausage, caramelized onion and apple pasta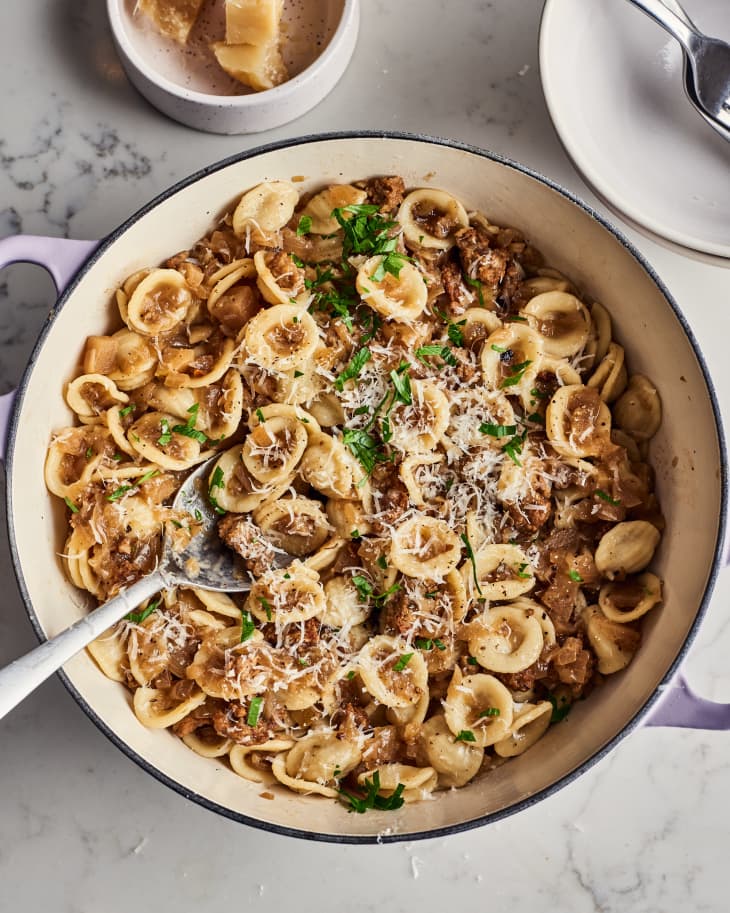 Apples and pasta you say? Yes, I do! Dressing your pasta with a mix of flavors that meld so beautifully together like sweet or spicy bulk sausage, parmesan cheese, apples and everyone's favorite, caramelized onions your will turn cooked orecchiette pasta into a mouthwatering satisfying fall one pot meal.
Autumn apple salad
This fresh and bright salad brings in the flavors fall beautifully by mixing in apples, maple and cranberries. More beloved salad mix ins like bacon and crunch pecans make this a really showstopper of an apple salad recipe.
Apple cider braised pork shoulder
Hang onto your slow cookers, this braised pork shoulder with apples is going to be a dish that has the whole household begging "when is dinner going to be ready"?
The classic combination of pork and apples demonstrates why it is a classic. Forget a side of applesauce with porkchops (not forever, just for this moment) and consider braising a whole shoulder of pork with sweet fall apples and let the flavors meld while they braise together with herbs, mustard and red onions.
So succulent you will be glad of the leftovers to enjoy another day
A vegan apple curry
Apples are a wonderful compliment to all the flavors found in curry. The sweetness softens the complexity of curry while also lend itself to other ingredients like beans, squash, potatoes and coconut milk.
Braised chicken and apples
Chicken. bacon, brandy and thyme blend with apples to braise into a family favorite. Use chicken pieces to make this one pot dish and serve with mashed potatoes.
This lodge enameled cast iron braiser is perfect for this type of dish.
An easy apple and sausage sheet pan recipe
When you're short on time this sheet pan dinner will be a family pleaser. The surprise of apple with the usual potatoes and sausage will be a welcome addition to you fall dinner plate.