Easy Pumpkin Spice Liqueur Recipes
Tiny Cottage Kitchen may earn money or products from the companies or product links mentioned in this post. This supports continued free recipes for you to enjoy.
Pumpkin spice liqueur recipes for food and drink
If you bought pumpkin spice liqueur and now wonder what you can do with it I have delicious ideas for you!
Not only for cocktails, consider using it in some of your fall treats to make them more memorable and delicious!
If you love fall and Halloween you may love these 10 spooky cocktail recipes.
Table of Contents
1. Pumpkin spice martini
While this pumpkin spice liqueur recipe seems obvious it's also delicious - and perhaps why you bought it in the first place.
1 ½ cups apple juice
1 oz vodka
1 oz bailey's pumpkin spice liqueur
1 tablespoon pumpkin puree
whipped topping for topping
cinnamon for topping
Prepare you martini glass rims with cinnamon and sugar. Shake drink ingredients well in an ice filled martini shaker and strain into prepared glasses. Top with whipped cream if desired.
2. Pumpkin Spice White Russian Fall Cocktail Recipe
Creamy and full of flavor, Homemade food junkie has come up with a real treat with this drink recipe. The pumpkin spice white russian combines pumpkin spice liqueur, whipped cream vodka and of course Kahlua. Mix in your choice of cream, half and half or whole milk and finish with ice.
You may like these 10 holiday cocktail recipes
3. Pumpkin spice hard sauce for bread pudding
Hard sauce sounds a bit old school but it still stands as a classic in modern times to flavor comforting bread pudding.
To make pumpkin spice hard sauce :
Cream 1/3 c. butter. Gradually add 1 cup powdered sugar then 1-2 Tbsp pumpkin spice liqueur. Continue to mix until mixture is combined. Chill to firm up before serving. Allow to melt over bread pudding or soften slightly and spread over seasonal breads like zucchini chip bread, pumpkin bread, spice cake or apple bread.
4. Pumpkin Spice Coffee Cocktail Recipe
Starbucks seasonal psl lovers this is your evening cocktail!
To make this pumpkin spice liqueur drink combine the following:
2 ounces regular or decaf espresso
1 ounce pumpkin spice liqueur (creamy style)
1 Tbsp pumpkin spice syrup
2 -3 ounces whole milk or half and half
1.5 ounce plain or vanilla vodka
sugar mixed with pumpkin pie spice to rim glass
cinnamon stick garnish
Prepare glasses with sugar and spice rim. Combine drink ingredients in a cocktail shake with ice and shake well for 30 seconds. Strain into prepared martini glasses. You may also serve in hardball glasses over ice.
5. Bailey's pumpkin spice cocktail
The Bailey's brand is a beloved one and a great choice for pumpkin spice liqueur.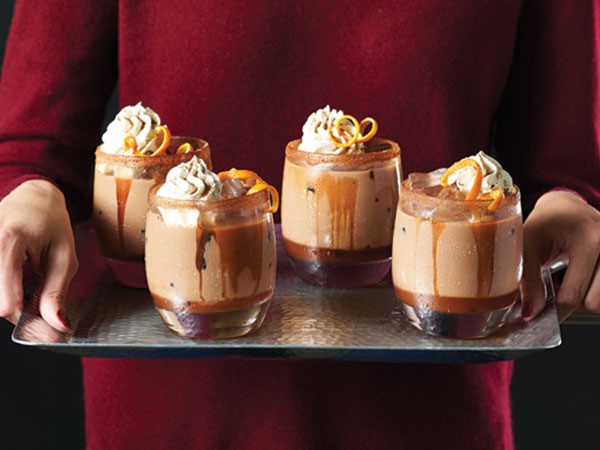 HyVee has posted a mouth watering bailey's pumpkin spice cocktail that is sure to please.
The recipe makes two cocktails- share one or have them both!
This drink combines light corn syrup, cinnamon sugar, orange peel and whipped cream to garnish. In the glass ingredients such as caramel flavor syrup, Bailey's pumpkin spice liqueur.
6. Pumpkin spice dessert sauce
By making some simple crepes with slivered almonds (cook over low heat so nuts don't burn) you have created a lightly flavored backdrop to show off the wow sauce where pumpkin spice liqueur is the star!
Tip: make sure you allow your crepe batter to rest in the fridge for at least an hour so the flour can absorb the milk and fully hydrate. This will make the most tender melt in your mouth crepe.
To make the sauce:
1/4 cup butter
1 C. powdered sugar
2 Tbsp pumpkin spice liqueur
2 egg yolks
2 egg whites
1/2 c. milk or cream
This recipe is cooked over hot water. Simply put a medium sauce pan with 2" of water over medium heat and allow it to come to a simmer. Use a heatproof bowl (glass or metal) that will fit over the pot without falling in or allows the water to touch to bottom of it.
Cream the butter, add sugar gradually, then pumpkin spice liqueur very slowly. Then finally beaten egg yolks and milk or cream. Put bowl over simmering water and stir/whisk until it thickens into a custard. Remove from heat and beat in egg whites. Serve over crepes and top with whipped cream or ice cream if desired.
7. Pumpkin pecan spice pie
Amp up your pumpkin pie by topping it with pumpkin pie liqueur infused pecan topping. I adore the contrast of crunchy nuts on top of silky pumpkin custard pie.
To make this, have your prepared pecan ready to top the pie during the last 10 minutes of baking. I encourage you to add 2 Tbsp of liqueur to your pumpkin custard mix before pouring it into the shell too. Use your favorite pumpkin pie recipe (I like to use home roasted pumpkin for my filling).
You will need 1 well beaten egg white, 1 1/2 cups raw pecans, 1.5 Tbsp pumpkin spice liqueur, 1 Tbsp brown sugar, pinch salt and a Tbsp melted butter.
Just before the pie is done baking, toast pecans on a rimmed baking sheet, tossing once, until slightly darkened and fragrant, 8–10 minutes.
Whisk egg white, remaining 1 Tbsp. brown sugar, salt and liqueur in a small bowl until foamy, about 30 seconds. 1 Tbsp melted butter; whisk just to combine. Add pecans and toss to coat.
When pie is ALMOST done baking (5-10 mins remain) remove pie from oven and top with pecan mixture, allowing any excess egg white mixture to drip back into the bowl. Return pie to oven and bake until filling is completely set (a tester or paring knife inserted into the center should come out clean) and nuts are not tacky to the touch, 8–10 minutes. Transfer pie to a wire rack and let cool, at least 2 hours. This pie tastes better the longer it sits. I find 18 hours after baking to be the most flavorful if you can wait that long!