Low carb cider braised pork shoulder
Tiny Cottage Kitchen may earn money or products from the companies or product links mentioned in this post. This supports continued free recipes for you to enjoy.
Missing cider braised pork on your low carb diet? I have tinkered with the original recipe which can rack up to 30 grams of carb per serving and got it down to just 5 net carbs for a low carb cider braised pork. Yes you get to eat some real apple and onions without blowing your carb budget for the day. Mash included!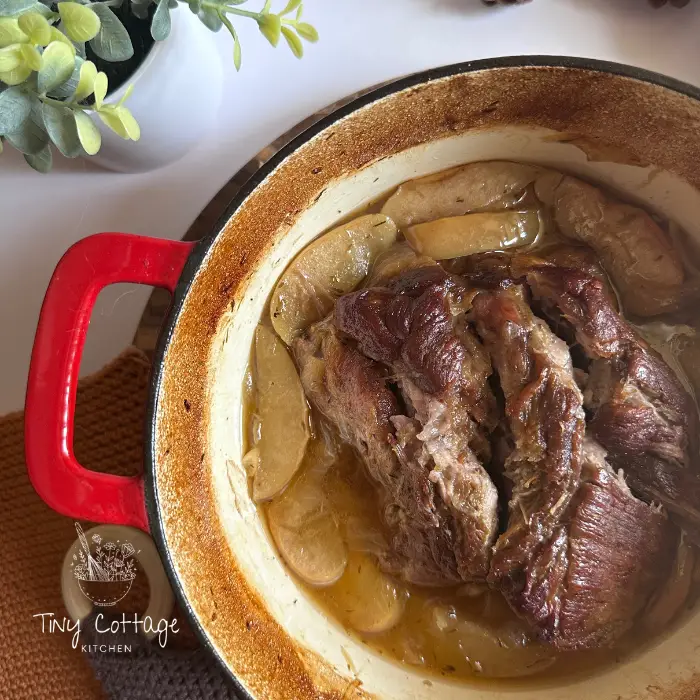 Cooking tips for a great result
For this recipe you can use pork shoulder or pork butt, just make sure it's well marbled with fat.
Take time for the searing process to get a good crust on every side (including end caps)
If you don't have an oven safe enameled cast iron dutch oven, brown in a pan before transferring it to a baking dish or casserole. You will want to deglaze the pan properly and a stove safe pan is critical for this step.
When removing the sauce post braising to reduce down, keep some in the pan so the pork won't dry out. It will suck in some of the liquid as the meat cools down.
Consider using beef gelatin to thicken sauce. I use Now brand beef gelatin.
You can substitue sage for thyme if you prefer that as your fall flavor. It works beautifully with apples and pork
To keep carbs minimal while still enjoying real apples, don't skip slicing the apple into 16 even slices both to allow maximum flavor infusion during the last minutes of cooking but also portion control
Don't waste raw apple cider vinegar on this cooked dish but you can add it in when you are finishing the sauce. After reducing sauce, add 1 Tbsp at a time of raw apple cider vinegar to taste and for added brightness.
You may like mustard in this recipe. Try 1 Tbsp of German style or Dijon mustard in the last step that reduces the sauce. As written the braising liquid is more of a sweet apple flavor that lends itself to some mustard.
Low carb serving suggestions
Consider serving this with sauteed cabbage and carnivore mashed potatoes for the ultimate keto comfort cold weather meal. I make carnivore mash nearly every week as part of my meal prep. Reheat carnivore mashed potatoes in a very low microwave so they don't split. the high protein content of them makes the proteins seize up in too much heat.
I served them here with the keto friendly French Onion Chicken Meatballs. These keto mashed "potatoes" have a far better mouthfeel than cauliflower mash.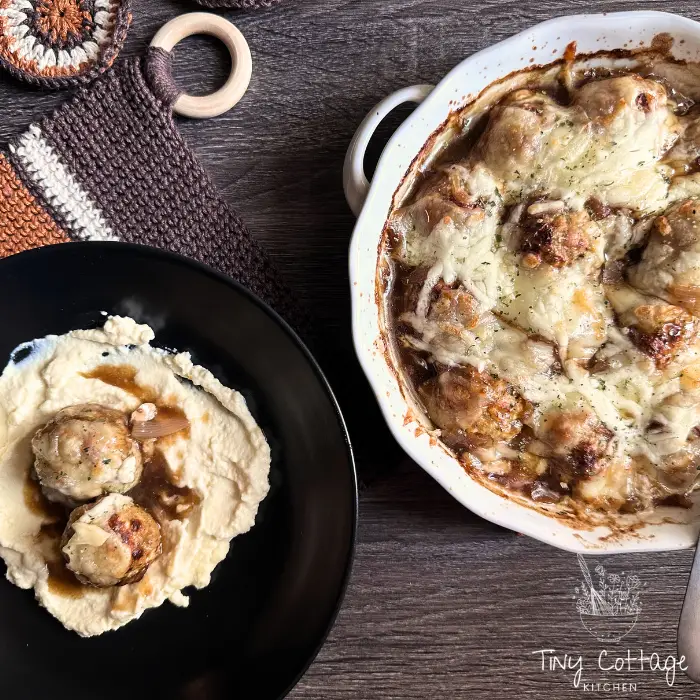 What makes this cider braise low carb?
The main carbohydrate culprit in cider braised pork is of course, delicious apple cider. Just 8 ounces of this will send me into a carb crash with a whopping 25-30 grams of carbohydrate per cup.
I switched it out for apple cider vinegar, keto brown sugar (I use Truvia sweet complete) and just one single fresh apple. Split over 8 servings it comes out to 5 net carbs and 20 grams of protein.
This recipe uses a 3 lb pork butt. You can double this recipe and you can use this recipe for pork shoulder.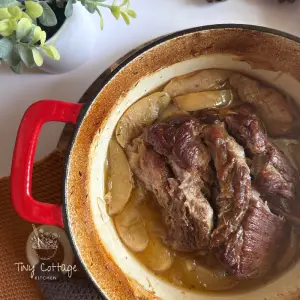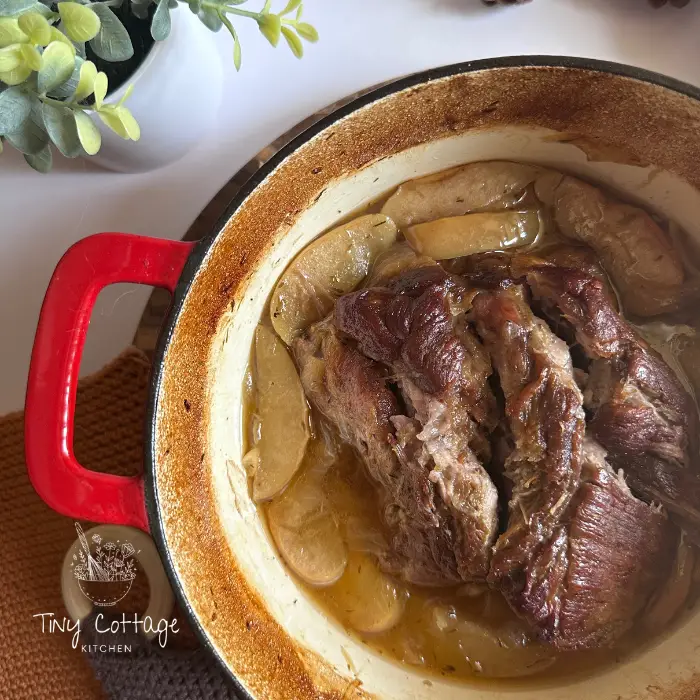 Cider vinegar low carb braised pork
Get the flavor of cider braised pork without the carbs. Enjoy this satisfying one pot meal in fall and winter.
Equipment
1 oven safe dutch oven

or pan to sear and oven safe casserole
Ingredients
3

lbs

marbled pork butt or shoulder

2

Tbsp

Avocado or other flavorless oil

1.5

c

sliced yellow onion

4

cloves

fresh garlic, peeled and sliced

4

Tbsp

apple cider vinegar

Use regular don't waste raw because it will be cooked

3

c

chicken stock, bouillon or bone broth

1

tsp

dried thyme

or 1 tbsp fresh thyme

1

medium

apple, washed cored and sliced into 16 even slices

gala, braeburn

1-2

Tbsp

Calorie free brown sugar style sweetener
Instructions
Preheat oven to 325.

Over medium heat, place dutch oven or pan you will sear in over heat and add 2 Tbsp of oil. Once hot sear pork on all sides creating a crust.

Remove to a plate while you finish next steps.

Meanwhile, as pork browns, slice onions (not too thin)

Add to pan, continuing to cook over medium heat and allow them to soften and slightly color. Approximately 8-10 minutes.

Add thyme to bloom the flavor and cook one more minute. Then add garlic slices and cook for 2 minutes.

Deglaze with cider vinegar, scraping bits from bottom of pan. Add chicken stock, brown sugar substitute. Stir to combine and allow sugar to dissolove. Taste to correct seasoning adding any salt, pepper, more vinegar or sugar to taste.

Return pork to pot. Cover and place in oven. Allow to braise for at least 2.5 hours.

Remove lid and add apple slices make sure they all get submerged into liquid. Return to oven uncovered. Apples will soften and sauce will reduce slightly. Bake 30 more minutes.

Remove from oven. Reduce sauce by putting 2/3 of cooking liquid into a sauce pan adding 1 Tbsp beef gelatin to thicken if desired. Reduce by 25% over medium heat while pork cools in the remaining liquid in pan.

Pull apart portions or slice and serve with carnivore mash, cauliflower mash and sauteed cabbage.
Notes
Serving is 4 ounces of pork with sauce and 2 slices of cooked apple.